Mizuki Saga Anniversary Event Part 1
by studio-mizuki
2nd Dec 2020, 4:00 PM
https://magientertainment.com/megami/mizuki-saga-anniversary-event/…
Mizuki Saga Anniversary event is now live. You can participate via the link. Comic will be posted Thursday at noon PST.
Mizuki Saga Anniversary Event.
by studio-mizuki
26th Nov 2020, 5:27 PM
On December 2 we'll be launching an event to celebrate the anniversary of Mizuki Saga. Final details will be revealed in the comic.
Prizes and full events will be based on the participation.
The Helpful Fox Reiko-San Part 3 Delay
by studio-mizuki
7th Oct 2020, 1:03 PM
We like to announce a minor delay on the next Mizuki Saga part.
The part will be ready by this weekend.
Preview page will be posted this thusday via our patreon account.
https://www.patreon.com/Magi_Entertainment
Mizuki Saga Season 0/0.5 Survey
by studio-mizuki
26th Sep 2020, 1:58 PM
That last drafts for season 0.5 is complete and we are now planning the content for season 1.
We launched a fourm to decided what will be in the next season of Mizuki Saga.
https://docs.google.com/forms/d/e/1FAIpQLSfAEXCMQAz1D4mnYGyG2f7XkbpxpTQEz6sr21qBy8nR4KkHYw/viewform?usp=sf_link
Thanks.
Mizuki Saga Book 1 Pre-Orders launching next week.
by studio-mizuki
17th Sep 2020, 4:15 PM
The pre splash page is up for Mizuki Saga Book 1.
https://www.indiegogo.com/projects/mizuki-saga-1/coming_soon/x/16804219
The campaign will launch on September 23 @ noon/12:00 PST.
The Book will released on March 2021.
We hope you support the series.
Mizuki Saga X Miku Anniversary Voting Event.
by studio-mizuki
19th Aug 2020, 2:16 PM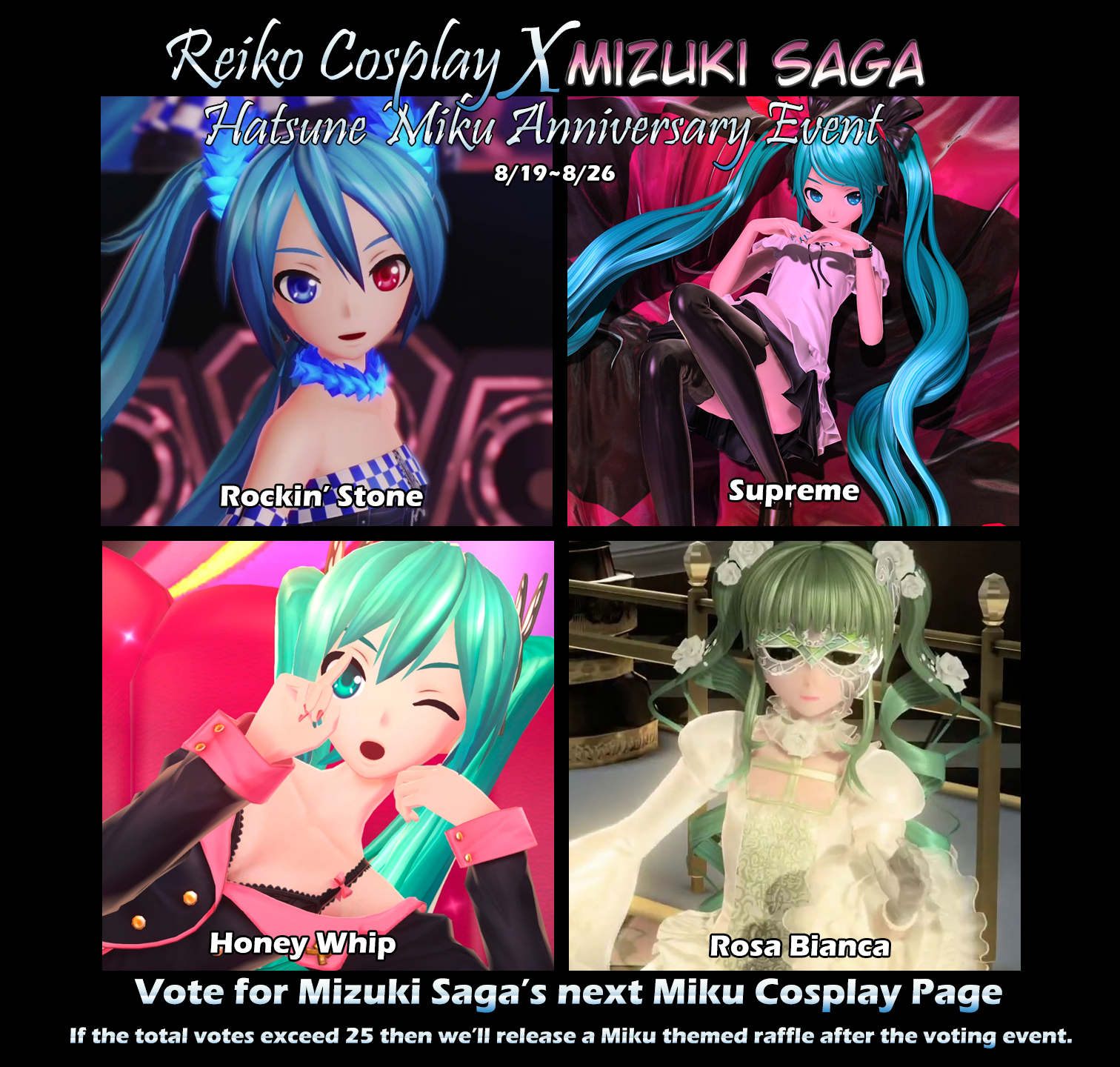 https://magientertainment.com/megami/2020/08/19/reiko-cosplay-x-mizuki-saga-hatsune-miku-anniversary-voting-event/
The next part of the Mizuki Saga X Miku Anniversary is now live.
You can vote for one of the 4 outfits via out main site.
The winning outfit will be adapated in a comic in 2021.
More votes we get then the more stuff we'll unlock for our event.
Reiko Cosplay/Mizuki Saga Open Request Event 8/2020
by studio-mizuki
5th Aug 2020, 2:11 PM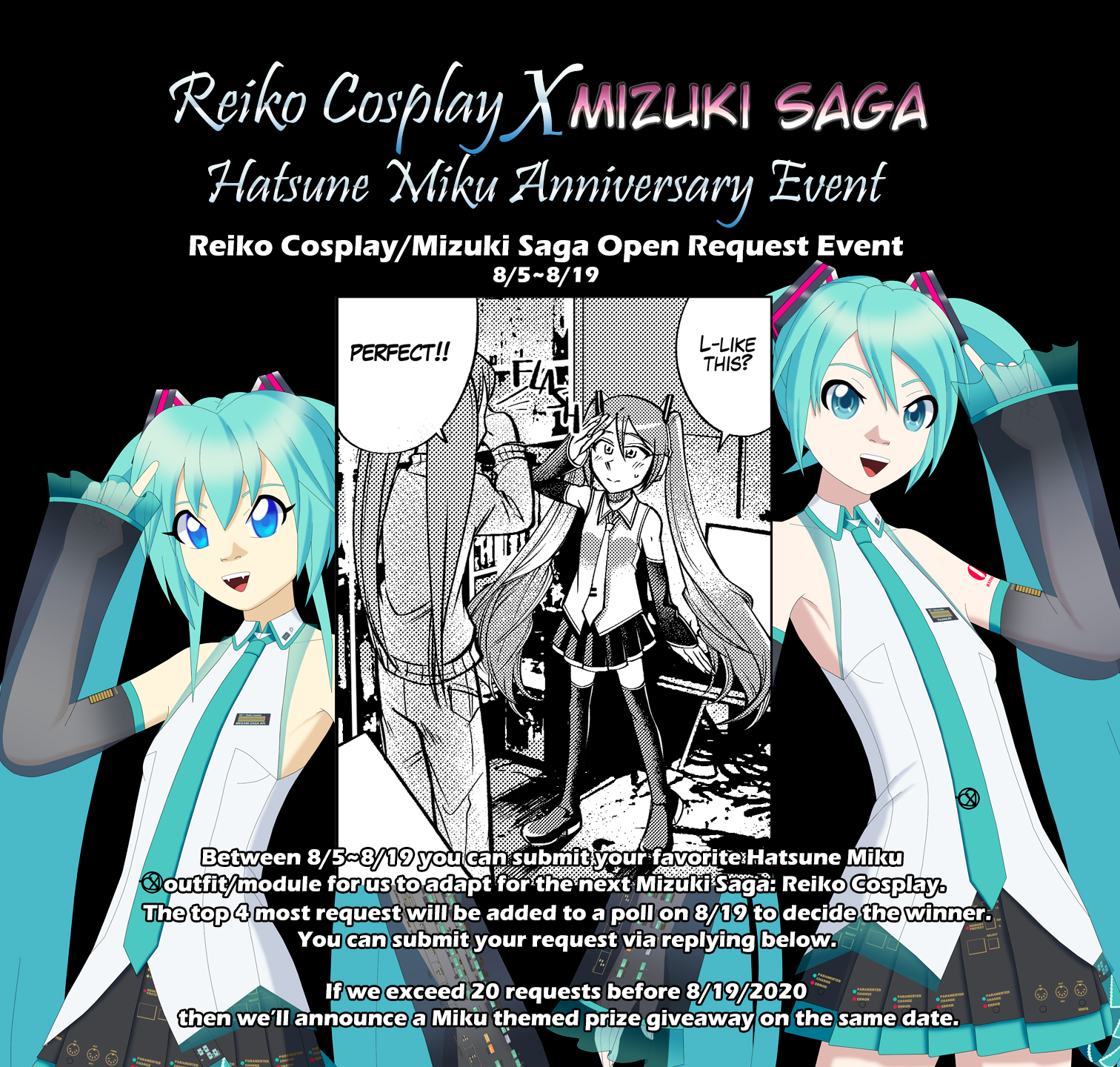 You can put down your request via the comment section below or post on social networks and web comic hosting.
The top 4 most request will be added to a poll on 8/19.
Note: If there is a tie or if we are short on request the picks will be done randomly.
We'll also have a sub goal once we reach 10 request and 40 however we'll announce what it unlocks when or if that goal is met.

We'll like to do more events like these however we need particiation.
Hatsune Miku Anniversary Event Schedule
by studio-mizuki
1st Aug 2020, 2:39 PM
Staring on August 1, 2020 our Reiko Cosplay X Mizuki Saga Hatsune Miku Anniversary Event will be live.
Below is a preview of the main schedule. Each event will begin by Noon/12:00 PST.
To reward the people who is participating in the event we will add bonus rewards and events every week once the goals are met.
These bonus events may include giveaways, raffles, contest and event event upgrades.
If they are met before the next event then we'll announce it with the next event.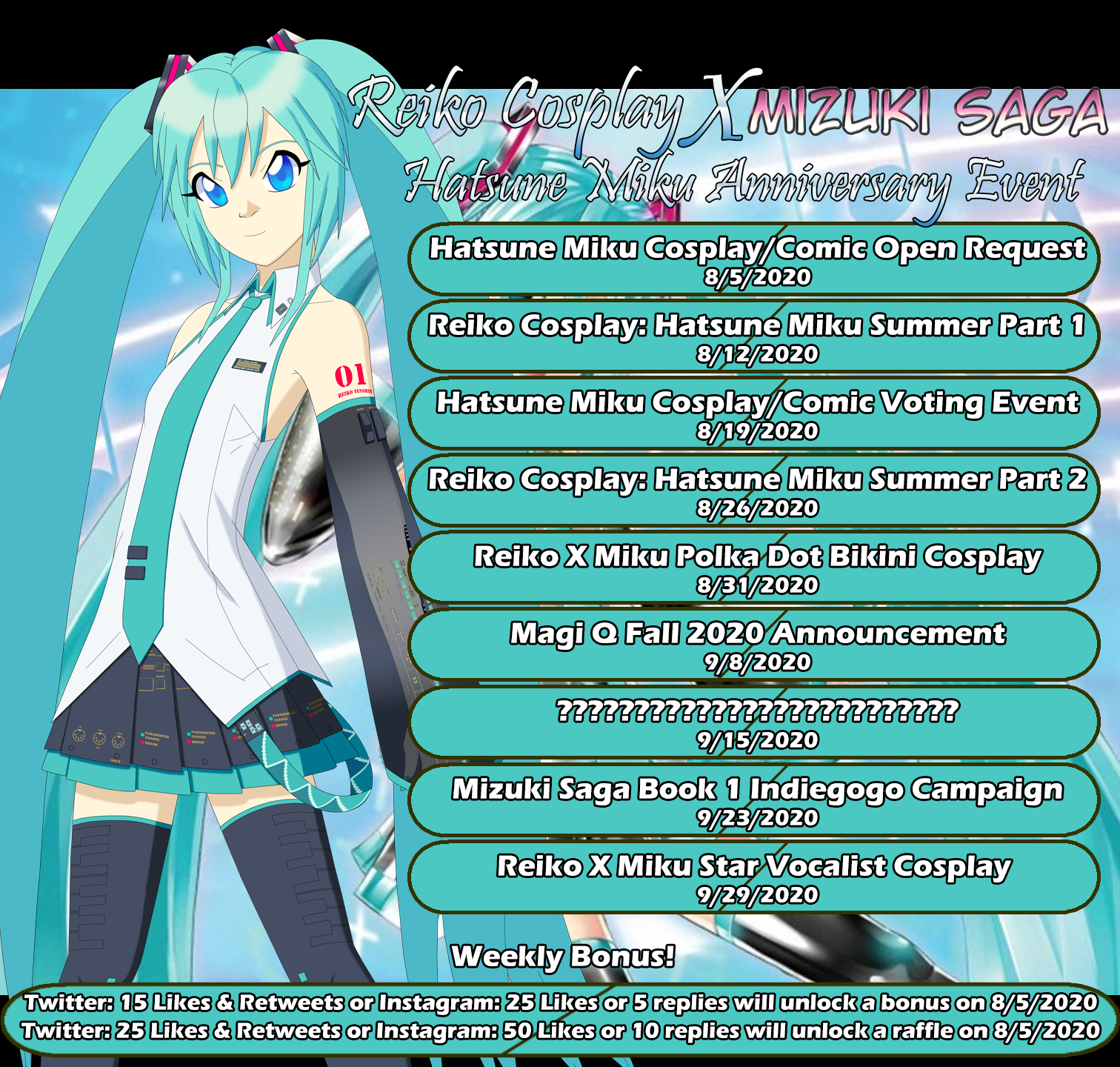 We like to hope everyone will attend and enjoy the event. If the event is successful then we'll do another event in a future date.